We must have all heard someone or the other say "kids say the darndest things!" Well, this has been proven to be right so many times. Kids are imaginative and what they think, they will say. There are no filtering or safety nets that govern how they communicate. Here we have a list of things that kids have revealed about their parents that must have wanted to be kept away from the public's knowledge. These kids and their creative drawings will surely bring a smile to your face…
Mommy's Appearance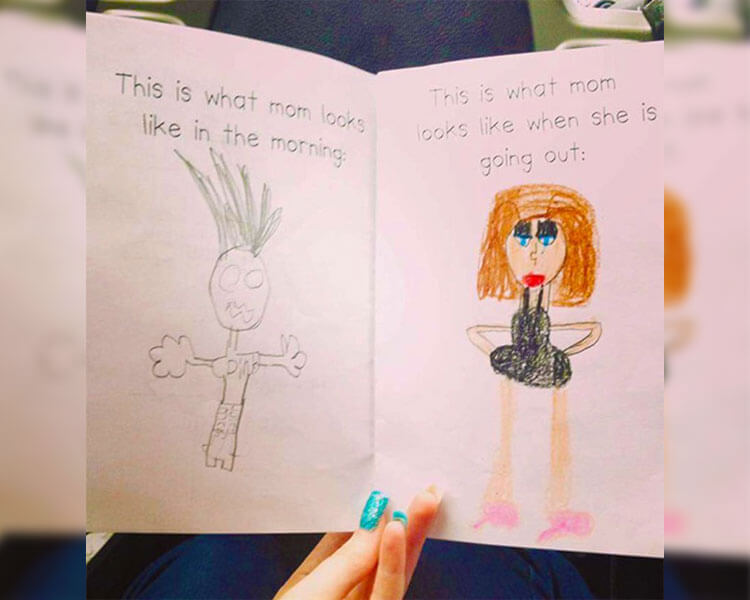 No better person can testify to your worst and your best look. Kids are always very perceptive and alert when it comes to their environment. We often forget that they got their eyes on us all of the time. This photo is a very good example of this habit of theirs. The mom's transformation is clearly seen in this drawing. The amount of change she goes through from waking up to her "going out look" is perfectly captured in this picture…
Chubby Issues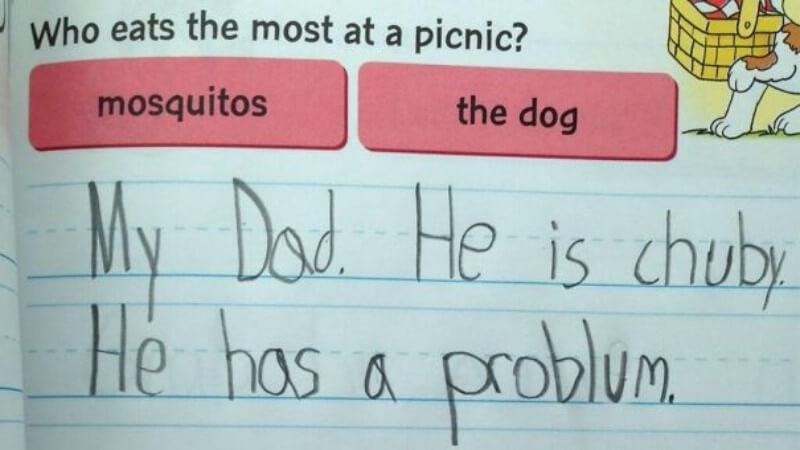 Here, using one sentence this kid had perfectly described how his father is. Even though the answer to his homework may be wrong, you cannot say that he is telling a lie. The question goes, "Who ate the most at the picnic?" the child merely answers that with a, "My dad. He is chubby. He has a problem." This little guy has outed his father as having a weight problem and would apparently eat anything…
World's Greatest What?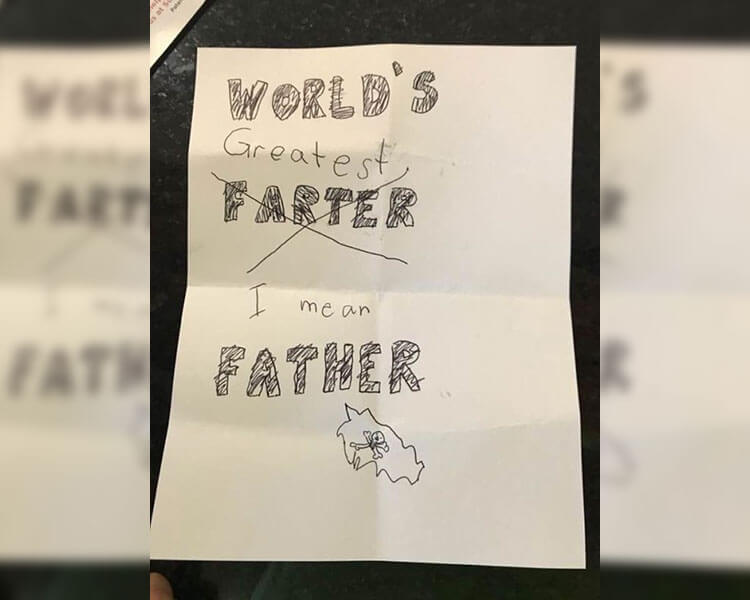 This kid here wanted to give a "World's greatest father!" to the dad. Such a sweet gesture, right? However, he accidentally wrote "farter" instead of the word "father". This would actually make for a very good fart joke. The kid tops off the card by drawing a skull and crossbones poison symbol in the middle of what looks like a gas. You cannot deny the fact that this kid is a creative one, even though the joke is on the dad…
Faking Out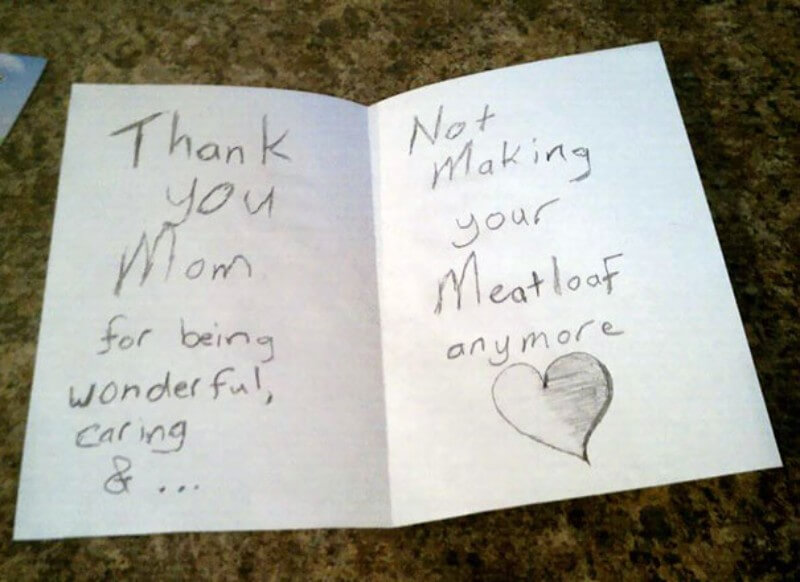 What seeming appeared to be a very sweet message fro mommy dear turned out to get a savage turn. "Thank you, mom, for being wonderful, caring… and for not making your meatloaf anymore." Mom's cooking must really be the worst kind if the subject matter of the whole card revolves around it. This kid might even be a cruel teenager just playing with the mother too. At least the kid acknowledges how caring the mother is…
Brutal Honesty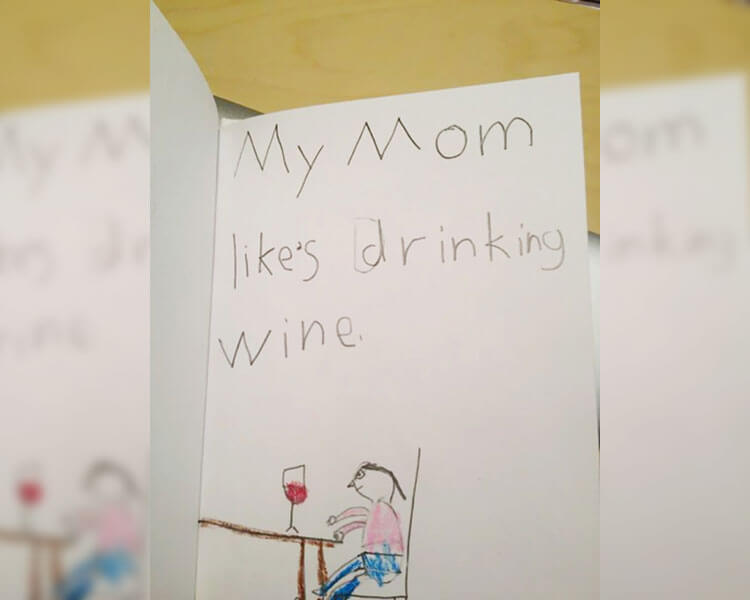 We can all agree that after a long strenuous week, some moms like to have a glass or three. It is not such an unusual thing to do. This mom's habits have been outed by the young one using this clear depiction. Now the entire class knows just what mommy's favorite thing to do is. Well, now even the teacher knows. Whoops! We hope that the teacher and the mom got to have a good laugh about all this as the secret is all out now…
The Realistic Note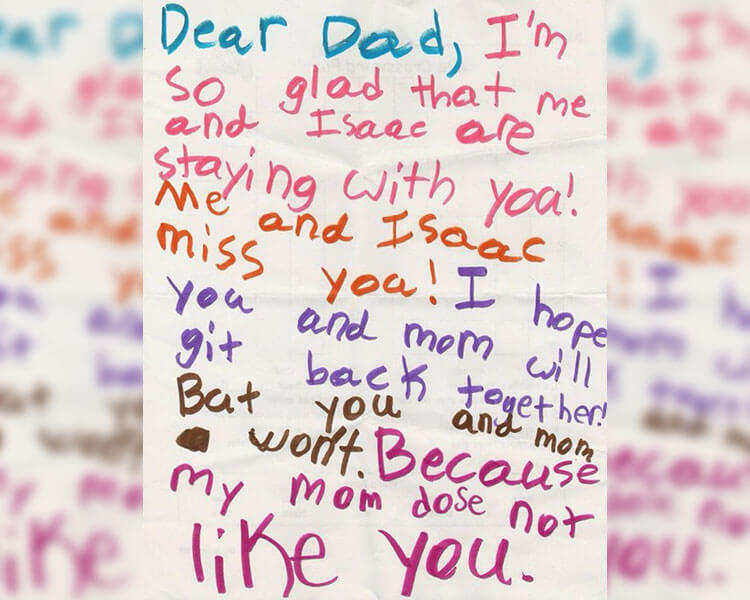 This one here is not exactly a drawing but the message being sent is more or less the same as the others. Here we see a note from a kid whose parents are either separated or divorced. This little girl here is professing to her father the fact that she and her brother are missing him terribly. She tells him that he wants her mom and him to get back together but that it's not possible because "my mom doesn't like you". What a message!